Tree Removal and Pruning: Why Fall is the Perfect Time for Tree Care
It's that time of year again. The leaves are changing colors and trees are getting ready to go dormant for the winter. After a full season of growing your trees may look a little unruly and need a trim. It's also a time when disease-bearing insects go into hibernation or die, making it the ideal time to think about tree removal.
Pruning

Pruning not only helps your trees look aesthetically pleasing, it also keeps the tree growing healthy. Low hanging, unnecessary branches draws water and nutrients away from the rest of the tree. Cutting these branches off in the fall, when the tree's growing cycle has stopped, will redirect the nutrients to the rest of the tree and bolster its growth in the spring.
What To Use
Low hanging and small reachable limbs can be cut with pruning shears, clippers, or hand saws. Don't worry about protecting the fresh cuts unless the species is susceptible to disease. Large, out of reach limbs or entire tree removal should be done by a professional.
Signs That It's Time to Remove That Tree
Fall is upon us and by now the leaves on your trees are beginning to change colors and fall. If you have any sick trees in your lawn then fall is a great time to identify them and have them removed before winter comes. Here are a few diseases to watch out for:
Dutch Elm Disease
Carried by bark beetles, this invasive disease was first reported in the U.S. in 1928. By 1950 it had spread to Detroit and it's suburbs, devastating the lofty elms that shaded most streets at the time. Despite a large-scale spraying campaign the disease spread through Michigan, decimating the elm population through the 70s. Since then the disease has come back several times and still affects the small number of elms remaining. An infected tree's leaves will begin to turn yellow and drop off in summer months.
Oak Wilt
Oak Wilt is a disease caused by fungus carrying beetles. The disease most likely originated in Latin America, carried to the US by beetles that feed on the sap of oak trees. Confirmed in 56 counties in Michigan, this disease affects all species of oak but kills red oaks much faster than white oaks. You will start to see the leaves turn brown on the tips and work its way down. Eventually, the tree will lose its leaves and die within months. The Michigan DNR recommends not pruning your oaks from April through the end of summer because this is when the tree is most vulnerable.
Needle Blight
Have you noticed your pine trees turning brown, losing needles, or its needles looking abnormally thin? Then you might have needle blight. The fungus mycosphaerella pini causes needle blight and affects over sixty species of pine. The fungus spreads to other branches and trees by rain dripping through infected branches or by physical touch. If you see your pines exhibiting signs of needle blight then prune the infected branches and clean up any needles under the tree, ideally in the fall,  and move them to a safe location where the spores cannot infect other trees.
Take Action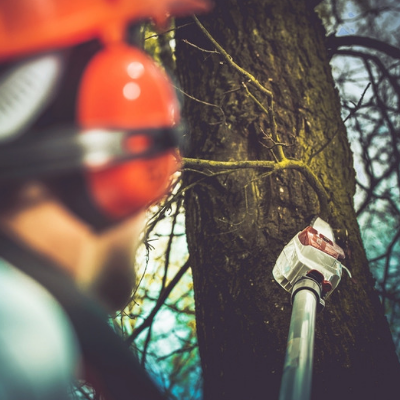 After you've determined that your tree is infected and dying it is imperative to have that tree safely removed and the wood properly destroyed. Check with the Michigan Department of Natural Resources about transporting infected wood. In some cases, as with infected Elm trees, it is illegal to transport.
Get Professional Tree Removal Help
If you need a tree removed or pruned don't wait until it's too late! Contact us about our professional tree removal and pruning services at PPM or call us at, (877) 454-8733.
---
---