Tree Removal: 4 Essential Tips for Safely Removing a Tree
Do you have a tree that needs to come down? Do you have a chainsaw and the time to do it yourself? Tree removal can be a very dangerous and time-consuming task. It's usually best left to the professionals, but if you are up for the challenge here are some tips for safely removing a tree.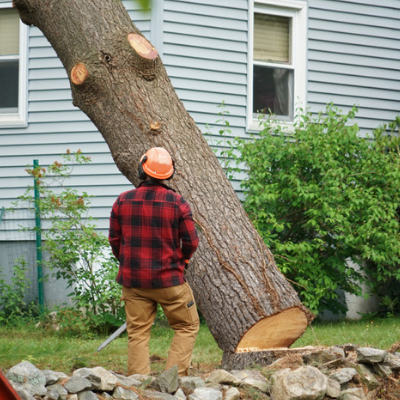 Safety First When Cutting Trees
The first thing you need to consider is your safety, other's safety, and any potential damage that could be caused. Trees are a lot bigger on the ground than you may think. If your tree is more than 20 feet tall then it's safest to get a professional to do the removal for you.
It's important to check for vehicles, powerlines, or structures in all directions around the tree. It's also a good idea to let your neighbors know beforehand that you will be removing the tree so they can keep any kids or pets inside. Remember, a dead tree will shatter when it hits the ground sending small, sharp pieces of wood flying in all directions.
Which Direction?
Before you start cutting decide which direction you want the tree to fall. If the tree is already leaning in the direction you want it to fall, congratulations, you're job is made significantly easier. But if you need to coax the tree in a certain direction or you are working in an extremely cramped space you have two options.
Notch Cutting

This is the most common and safest method of felling a tree. Start by cutting a notch in the tree on the side you want it to fall. Make the top cut first then make the bottom cut. If done correctly a notch will drop out. Many inexperienced cutters will dive right into sawing the tree without making a notch and nine times out of ten the tree will pinch the blade giving you a new task of trying to get the weight of the entire tree off your saw. This is a messy situation that can be easily avoided with a notch. After cutting the notch start cutting from the other side of the tree so it's level with the corner of the notch. The tree should fall easily in the direction you want.
From The Top Down
Sometimes the location and size of the tree can make cutting it down a little tricky. For instance, if you live in an urban area with lots of wires, houses, and fences around. If this is the situation or if you have a large tree to remove then it may be best to call in the professionals. This method is a bit more dangerous and time-consuming but, if done safely, it can save you from paying for any extensive damage.
If you decide to do it yourself then start by securing an extension ladder to the tree. Use a strong rope, you don't want any wobbling while you're carrying a chainsaw up. From the top of the ladder see what you can cut. Start with smaller branches, surgically cutting the tree to pieces from the top down. If branches are too big or long it may require you to cut the branch little by little. After cutting all of the branches from the tree you're left with a tall stump. This can be cut into pieces or felled in an easier and more manageable way.
The Safest Method of Tree Removal: Let the Professionals Handle It
Remember, if you decide to do this yourself, be safe and never take your eyes off a falling tree! If you would like to save yourself the risk and effort contact us at PPM Tree Service & Arbor Care. Let the professionals take care of all of your tree removal needs, call now at (877) 454-8733.
---
---