Having a real Christmas tree for the holidays is one of the best holiday traditions. But, what do you do with your Christmas tree after the holidays? There are actually quite a few ways to recycle or reuse your Christmas tree once the holidays have passed. Here are a few of the best ways to reuse a Christmas tree after the holidays.
Recycle Your Christmas Tree
Live Christmas trees are biodegradable, which means they can be recycled. Here in Michigan, different cities and counties have policies for recycling these beautiful trees. For the most part, Christmas trees can be recycled by simply leaving them out on the curb. Usually, Christmas trees are collected during the first two weeks of January. Before you take your tree to the curb, make sure to remove all decorations and tree stands. If your tree is taller than 6 – 7 ft, then you may need to cut it in half. Check out this helpful link for more information depending on where you live.
Make a Beneficial Mulch Out of Your Christmas Tree
One of the best ways to reuse a Christmas tree is by turning it into a beneficial mulch for your flower beds and gardens. With this method, you have two options. First, you can use the needles as their own mulch. Just take the tree outside and shake the needles into your flower bed as added insulation against the frigid Michigan winter. The second method is to use a wood chipper. With this method, you can turn the entire tree into a beneficial mulch to use throughout the year.
Turn Your Christmas Tree Into Outdoor Firewood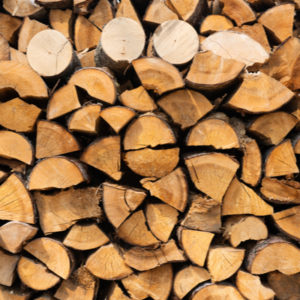 A great way to reuse your Christmas tree is to turn it into firewood for your outdoor fire pit. Throughout the holiday season, we have to fight to keep our tree hydrated. They seem to dry up rather quickly, requiring water nearly every day. At the end of the holiday season, you can finally let it dry out. Take the tree outside and chop it into manageable logs to be used as wonderfully fragrant firewood.
It's important to note that these logs should not be used in your indoor fireplace. Burning pine, fir, or spruce trees produce a chemical called creosote. Creosote burns extremely hot and can cause a fire to get out of control. The chemical can buildup in the chimney, eventually resulting in a flue fire.
Get Crafty
When the holiday season is over, you'll have an entire tree worth of crafting material to play with. Get creative! Some people use the trunk, or thick branches, to make cool looking coasters. Simply cut 1 – 2 inch slices from the trunk or thick branches and coat them in polyurethane. The crafty possibilities are endless.
Other Christmas Tree Crafts Include:

Evergreen Wreaths
Bird Feeder Stand
Make Holiday Decorations
Make an Instrument
Aquarium or Pond Decoration
Replant It
Finally, you might be able to replant your Christmas tree after the holiday season. This option only works if you bought your tree with the roots still attached. If the tree has been cut, then it can't be replanted. This is a fun option because, after a few years of doing this, you'll be able to create your own little Christmas forest.
Need Tree Service? Call PPM Tree Service & Arbor Care
After the holidays are over, make sure you recycle or reuse your Christmas tree. If you have need of any tree service, like removal, cabling, or planting, give us a call at PPM.
For more information on which services are best for you, call us at (877) 454-8733. For the top tree care tips from the experts, head over to our blog. If you want to stay up to date on our latest deals and news, follow us on Facebook and Twitter.