Tree Planting in the Spring: Why Spring is One of the Best Times to Plant a Tree
People are always asking, when is the best time to plant a tree in Michigan? For our particular state, with its particular environment and climate, we believe that spring could be the best time to plant a tree in Michigan. Here are a few reasons why and a few tips to help you plant your tree this spring.
What are the Benefits of Planting a Tree in the Spring?
Ideal planting time for your trees and shrubs depends entirely on where you live and what your seasons and weather are like. If you live in a place with hot and dry summers, long and cool falls, and short and warm winters, like Washington state, then fall is the best time to plant. Here in Michigan, our summers are not as hot or dry and our falls are not as long, but our winters are much colder and much longer. Because of our environment and climate, spring is one of the best times to plant a tree.
During the spring, the temperatures are relatively cool, but getting warmer, and we tend to have a lot of rain. This is good news for a new tree. Irrigation is incredibly important for a freshly-planted tree. They need enough water to help them grow branches, leaves, and roots at the same time. During the summer, the temperatures aren't too hot and the weather isn't too dry. This means your tree will be able to continue growing throughout the summer, allowing it to strengthen in the fall before the harsh Michigan winter.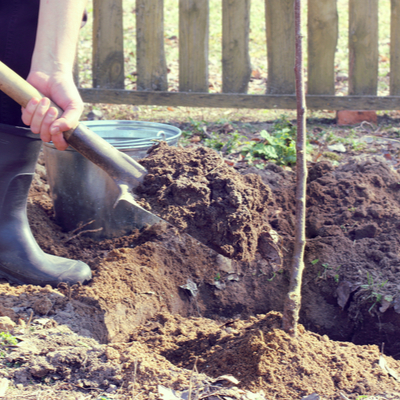 How Do You Plant a Tree?
Find the Perfect Spot
When planting a tree, there is a lot of preparation and planning that goes into it. The first thing to do is decide on the tree you want. Choose between flowering trees, shade trees, colorful trees for fall, or fruit trees. Once you've decided on a tree, you can look around your lawn for the perfect spot. It's important to consider the tree's water and sunlight requirements to choose the best spot. Make sure the tree isn't too close to the house, roots can wreak havoc on plumbing. Finally, look for nearby power lines. Remember, your tree is going to be growing for years to come, it's best to avoid the problems before they become problems.
Wait for the Perfect Time
The perfect time to plant a tree in the spring is after the last frost of the year. It's also a good idea to make sure your soil isn't too water-logged. Give the lawn a couple of days after the last frost to allow the soil to warm up and dry out a bit.
Dig the Hole
Next, you need to dig the hole. Make sure you only dig the hole as deep as the root ball is. You don't want it to be too shallow or too deep because that can result in a number of problems for the tree.
Plant the Tree and Fill In the Hole
It's finally time to plant the tree! Place it in the fresh hole, making sure the roots fit. While holding it up straight, fill the hole in with fresh, clean topsoil. Carefully tamp it down with your feet when it's full and there you have it.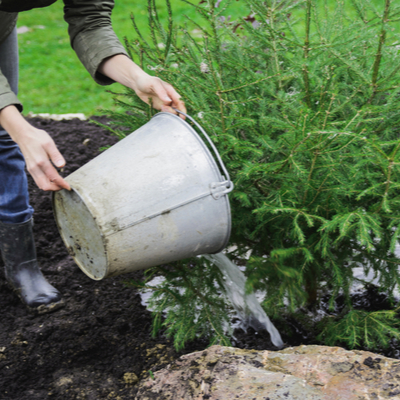 Water It
Finally, it's time to water your tree for the first time. This first drink should be between 2-5 gallons. Make sure to pour it slowly to avoid runoff, making sure your tree roots get every last drop.
Trust the Planting to the Experts at PPM
If you aren't sure about which tree would do best on your property or where the perfect place to plant a tree in your lawn is, then it's time to call in the experts. Here at PPM Tree Service & Arbor Care, we know trees. We specifically know all the best planting and care techniques for trees in Michigan lawns. Our experts can help you make the best choice on tree type and tree placement, then we'll plant it for you.
For information on how we can get started, call us at (877) 454-8733 or send us a message here. Make sure you keep up with our latest deals and news by following us on Facebook and Twitter. For more great tips on trees and tree care in Michigan, head over to our informational blog.
---
---