Beautiful Flowering Trees to Add to Your Michigan Lawn This Spring
Nothing says spring quite like the sight of a beautiful flowering tree here in Michigan. The lovely colors and heavenly smells attract pollinators from all over, turning your lawn into a thriving ecosystem. Planting a flowering tree or two in your lawn is a surefire way to boost your home's curb appeal and spring just happens to be the best time of the year to plant a tree in Michigan. Here are a few of the most beautiful flowering trees to add to your Michigan lawn this spring.
Northern Catalpa Tree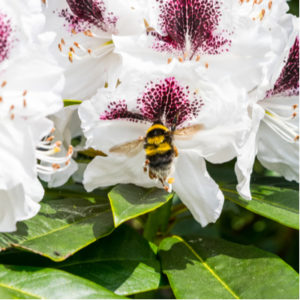 One of the larger flowering trees to choose from here in Michigan is the Northern Catalpa tree. These large shade trees have enormous, emerald-green, heart-shaped leaves that give you a nice, cool place to relax in the summer. However, it's the spring when this tree shows you its true nature. Beautiful bunches of white, trumpet-shaped flowers burst open with an incredible aroma. If you're looking for a large flowering tree with ample shade and a perfume that'll knock you off your feet, then the Northern Catalpa tree is the tree for you.
Crabapple Trees
One of the most common flowering trees in Michigan is the crabapple tree. These gorgeous little trees are the perfect addition to your landscaping this spring. Crabapple trees provide something beautiful all year long. Their flowers are outstanding in the spring, with delicate blossoms that come in an assortment of different colors, depending on the species. Their fruit in the summer attracts birds from all over, giving your birdwatchers a great view. For some crabapple species, the fruit hangs on throughout the winter, offering a beautiful pop of red against the white backdrop of our Michigan winter. In the fall, crabapple trees put on a beautiful display of fall colors before losing their leaves.
Beautiful Crabapple Trees in Michigan:

Snowdrift Crabapple
Pink Perfection Crabapple
Red Jade Crabapple
Molten Lava Crabapple
Brandywine Crabapple
Harvest Gold Crabapple
Cherry Trees
When it comes to flowering trees, one of the best is the cherry tree. These famous trees put on a spectacular show every spring with their fragrant pink and white blossoms. The spring cherry blossom show is so spectacular that people travel all over the world to cherry blossom festivals. Japan, Washington DC, and even Traverse City, Michigan all play host to annual cherry festivals, attracting tens of thousands of tourists. Adding a cherry tree to your lawn means you'll have a front-row seat to your very own cherry blossom festival, every spring.
Tree Lilac
Lilacs are one of the most beautiful scents in the floral world. While most people decorate their lawn with large lilac bushes, there's actually another option. The tree lilac is a species of lilac that actually grows as a tree. The flowers on this lovely little tree are identical in color, shape, and smell to the lilacs we're all familiar with. Adding one of these beautiful flowering trees to your Michigan lawn is a fragrant decision that you won't regret.
Dogwood Trees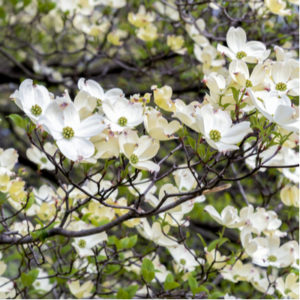 Finally, no list of beautiful flowering trees is complete without the dogwood tree. Dogwood trees are the perfect small-medium flowering trees to add a beautiful accent to any lawn in Michigan. There's a wide variety of dogwood species, meaning there's sure to be a perfect dogwood tree for everyone. In the spring, the beautiful blossoms start to pop in white, pink, and red, depending on the species that you plant. Which dogwood tree do you want to add to your Michigan lawn?
Beautiful Dogwood Trees in Michigan:

Kousa Dogwood
Alternate-Leaved Dogwood
Flowering Dogwood
Planting Beautiful Flowering Trees is Easy With the Help of PPM Tree Service & Arbor Care
Here in Michigan, nobody plants a tree better than PPM Tree Service & Arbor Care. With spring being the best time to plant a tree, now is the perfect time to add beautiful flowering trees to your lawn. With tree services like planting, trimming, pruning, and removal, you can't go wrong with tree care services from PPM.
For more information on flowering trees, give us a call at (877) 454-8733 or request an easy quote here. Hear about the latest news and offers from PPM Tree Service & Arbor Care by following us on Twitter and Facebook. Don't forget to check out the monthly PPM Tree blog for all your tree care tips and tricks.
---
---