If you want a relaxing, refreshing way to bask in the beauty of your yard, few things rival a hammock. To be suspended in the air with just material under you keeps things cool on a hot summer day. The rocking motion makes you relax, too.
Despite what some people might think, not all hammocks are made equal. If you really start to look at the variety out there, you likely are confused. Choosing a hammock that meets your needs all around will help ensure you're happy in the long run, instead of wishing you bought something else.
Types of Hammocks
One of the first things you need to consider is the material and weave of your hammock. This is where most people get confused, but understanding the basic types isn't difficult, once they're broken down.
Rope Hammocks: made of stitched rope that stretches from one spreader bar to another. This is the type most people think of. It's both supportive and flexible. Choose a nylon rope to keep the hammock free of mold and mildew.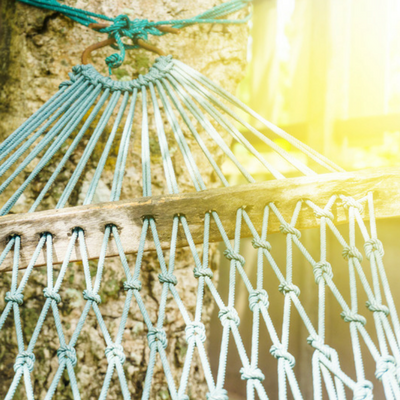 Quilted Hammocks: These are great for providing warmth because a filler sits between two fabric layers. That makes these hammocks softer, and you won't get caught in any rope.
Mayan Hammocks: These feature a thin, woven thread that stretches to accommodate any body shape and size. They're also quite breathable. Again, choose a nylon thread to combat humidity.
Brazilian Hammocks: Woven out of thick cotton threads, these are good for staying warm in the spring and summer. Without spreader bars, you're surrounded by the hammock, almost like a cocoon.
Nicaraguan Hammocks: Also, double-weave, they're stitched tightly so the hammock doesn't sag much. Still, there's enough gap in the weave to allow air to flow through freely.
What type of hammock you choose depends on when and where you'll use it, as well as your personal preferences.
Using Hammocks in Trees
Some hammocks are designed for use in trees. Thanks to all kinds of hanging products, you can suspend a hammock between trees that are spaced over 15 feet apart. A space of fewer than 10 feet normally means you don't have enough room for most hammocks.
Of course, you'll need trees that are sturdy enough to support your weight.
Possible Tree Damage 
Using a hammock in trees can cause some serious, irreversible damage. Consider the following before you anchor your hammock to some backyard trees:
Ropes will over time cut into a tree's bark, making it at risk of infection or insect infestation.
Ropes also can cut off water and nutrients, eventually causing the tree to die.
A hammock can cause trees to bow or break slowly, even if they appear to hold your weight without issues.
Hooks open a hole in your trees, also increasing the risk of infection or infestation.
You can get tree saver straps, which reduce some of these risks, but they may not entirely eliminate them.
Alternatives to Trees
If you don't want to risk damaging your trees, you have two alternatives for hanging your hammock:
Stands: most hammock suppliers will sell a stand that's compatible with any hammock you choose. You can move these stands to anywhere in your yard, which is nice if you want to always be in the shade.
Posts: Like fence posts, you need to dig into the ground and cement these into place. They're a sturdy and permanent solution.
If you have concerns about hanging a hammock from trees or have noticed damage to your trees from a hammock, contact us at PPM Tree Service & Arbor Care.