Fall has arrived here in Michigan and that means one thing: it's apple orchard season. This is the time of year when it really pays off to be a Michigander. Picking apples, drinking apple cider, eating cider mill donuts; it doesn't get much better than this. Here's a list of the best apple orchards to visit in southeast Michigan.
Blake Farms Apple Orchard – Armada, MI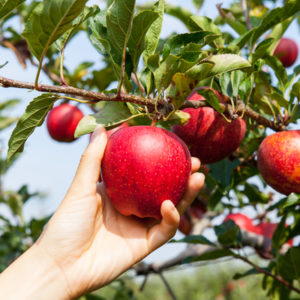 Blake's is a Michigan staple. With their 15 varieties of apples to pick, seasonal haunted attractions, and not to mention their Michigan-famous Blake's Hard Cider, this place has something for everyone. Being one of the first u-pick orchards here in Michigan means Blake's has had years to perfect their craft. Blake Farms Apple Orchards definitely makes the list of best apple orchards to visit in Michigan, every year.
Check out their harvest calendar to see when your favorite apples are ready to be picked!
Prices for Blake Farms Apple Orchard:
Admission: Free
U-Pick: $20 minimum per car
Spicer Orchards – Fenton, MI
Spicer Orchards is always one of the top apple orchards in Michigan. Its family-friendly activities and many varieties of tasty apples make it a great weekend excursion for the family. When you come to pick apples at Spicer's, you and the family get a wagon ride out to the different spots in the orchard, depending on which apples you want to pick. When you're finished, head into the cider mill for delicious donuts and cider. A day spent at Spicer Orchards is a day well-spent.
Take a look at the harvest schedule to find out when your favorite apples are ripe and don't forget to check out their winery too!
Prices for Spicer Orchards:
Admission: Free
Pick Your Own: $16 per peck
Corn Maze: $8 and includes cider and donut
Cider: $5.95 half gallon, $8.95 full gallon
Donuts: $5.95 half dozen, $8.95 full dozen
Plymouth Orchards & Cider Mill – Plymouth, MI
Established in 1977, Plymouth Orchards & Cider Mill is a beautiful organic-certified working farm to visit this fall. Wagon rides give you a tour of the property while teaching you about the history of the farm. Stop by the farm animals or the u-pick pumpkin patch later in the fall.
Your visit isn't complete until you check out the cider mill. Here you can pick up fresh apples, warm pies, just-baked donuts, and apple cider. Everything here is fresh, delicious, and brings out the best of fall.
Prices for Plymouth Orchards & Cider Mill:
Admission: Free
U-Pick: N/A
Pie: $4 per slice, $15 – $17 per pie
Donuts: $1.25 per donut, $3.50 for 3, $5 for 6, and $8 for a dozen
Cider: $1.50 for 8oz hot cider, $3.50 12oz cold cider, $6 half gallon, $9 gallon
Cider Slushie: $4 per cup
Diehl's Orchard & Cider Mill – Holly, MI
Diehl's is a beautiful orchard located in the quaint town of Holly, MI. While they don't offer a U-Pick option at Diehl's, you can still buy apples straight from the farm. Apples aren't the only things this orchard has to offer. From hiking through the orchards or navigating their corn maze to having a pony ride or watching fresh cider and donuts get made, Diehl's Orchard & Cider Mill has something for everyone.
Prices for Diehl's Orchard & Cider Mill:
Admission: Free
Orchard Hike: Free
Corn Maze: $5
Hay Rides: $3 (weekends only)
Pony Rides: $6 (weekends only)
Pre-Packaged Apples: $4 ¼ Peck, $6 ½ Peck, $9 1 Peck
Pack & Tote Apples: $3.50 ¼ Peck, $5 ½ Peck, $8 1 Peck, $15 ½ Bushel, $28 Full Bushel
Yates Cider Mill – Rochester Hills, MI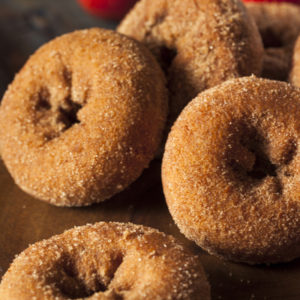 It should first be noted that Yates Cider Mill is not an orchard, but it's full of apple-related food and fun. Founded in 1863, this ancient cider mill is one of the oldest businesses still operating in Michigan. Yates is a household name in Michigan when it comes to apples, cider, donuts, and fall. Come watch how they produce cider the old fashioned way, using water power from the Clinton River and check out the donut making process as well. Make sure you get a taste too, you definitely won't regret it. Yates Cider Mill offers fresh apple cider, donuts, ice cream, and you can even visit the apple tent to pick yourself a bag of apples.
Have Your Very Own Orchard
Here in Michigan, we're blessed with the perfect apple-growing environment. The experts at PPM Tree & Arbor Care have the know-how and the experience to help you start an apple orchard in your very own backyard. With tree care, planting, pruning, shaping, and cabling services, PPM Tree & Arbor Care is your one-stop-shop for all your tree care needs.
Give us a call at (877) 454-8733 or request a quote here.