Having your home or business property being surrounded and filled with large, century-old trees can be an incredible site to see and add value that you can't necessarily pay to have. 
But what happens when some of that big, beautiful tree is covering part of your home's or business' roof or outdoor space? What happens when the tree is not being preserved correctly and the neighborhood is on its way to losing a natural beauty that has stood for years? When these dangers set in, that's where tree cabling comes into play. 
What Is Tree Cabling?
Starting with the basics, tree cabling is essentially using cables to correct the pattern of a tree's growth so that there will be no need to cut it down later when it's growing into the roof of a home or hovers over where you park your car. 
Cabling can contribute to stopping a number of issues before they happen. If cabling is done before it is too late to correct a tree's growth pattern, it could end up being the reason a landmark is saved instead of chopped down. 
Another way cabling helps is to protect—protect the trees themselves and everyone around it. It can work to preserve the limbs that are too weak to hold themselves over a long period of time that would likely eventually pose a threat to those in the surrounding areas. 
Is Tree Cabling Right For Me? 
Knowing when the appropriate time to invest in tree cabling depends on a variety of factors, but the first step is to ensure you know all of your needs and options. 
How Is Cabling Different from Pruning?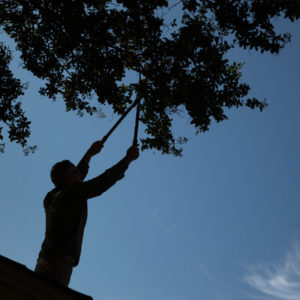 Pruning has its various benefits, it's always important to recognize that they are different services. When the limbs of your tree are overgrown, it requires pruning. But when the limbs of your tree are the right length, all is well in the pruning world, but you wouldn't want to let that trick you into thinking your tree's limbs are stable. That's where cabling comes in, ensuring that all limbs are in place and stable, preventing any property damage.
Call PPM Tree for Professional Cabling!
Are you worried about your tree's branches falling and creating damage to your home or property? Our ISA certified arborists are ready for anything that comes our way. We offer a wide range of tree services in addition to tree cabling such as planting, trimming, pruning, stump grinding, and tree removal. 
Whether you're unsure of what you need or are ready for us to take action, you can request a quote here or give us a call at (877) 454-8733. At PPM Tree, we show off our work on our Facebook page and Twitter thread.