Common Diseases of Oak Trees in Michigan
Oak trees are one of the most majestic trees in Michigan. These sentinel trees can live for centuries, providing shade, clean air, and can even increase the value of your yard. As indestructible as these trees may seem, they can also catch deadly diseases that can bring them down. Here is a list of some common oak tree diseases and one that may be on its way.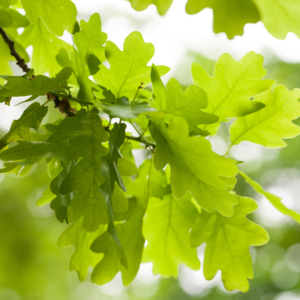 Oak Leaf Blister
Oak leaf blister is a foliar fungal disease caused by the fungus Taphrina caerulescens. It appears as round, bumpy areas up to 2 inches in diameter and covers the upper leaf surface. The fungus is most active in cool, wet springs and can affect almost every oak tree species, but the red oak is particularly vulnerable to this disease. Leaves with too many spots may drop prematurely. 
Bur Oak Blight 
Bur oak blight is a slow creeping fungus that affects only the bur oak tree. It remains on leaves that still cling to the trees throughout the winter until the wet, warm weather helps the disease spread to other leaves. Symptoms become apparent in July and August. The infection slowly weakens the tree over the years and makes it susceptible to other tree diseases.
Symptoms of bur oak blight include:
Black leaf veins

Triangle shaped lesions

Leaf drop

Leaves remaining on tree over winter
Oak Wilt
Oak wilt is one of the deadliest diseases for red and white oaks in Michigan. It is caused by a fungus imported from Latin America and is carried by beetles that feed on the sap. Like the other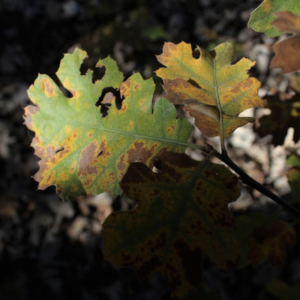 deadly tree disease, Dutch elm disease, the fungus disrupts the trees' vascular system, causing them to wilt and die. A mature oak can succumb to oak wilt in as little as three weeks.
Lead wilt from the crown on down

Browning on tips of leaves

Rapid defoliation
Anthracnose
Anthracnose is a foliar disease and a very common disease among oaks in Michigan. The fungus causes the browning of leaves from the veins outward. Anthracnose affects oaks in the spring and appears to prefer white oaks and red oaks. Affected leaves will drop off, leaving the tree looking sickly. The tree will use more energy to try and regrow more leaves, but as the infection continues, it takes more and more energy for the tree to keep up. The tree then becomes vulnerable to other diseases. Severely infected trees can be treated with an injection in the fall or sprayed in the spring to help control this disease.
Sudden Oak Death
Sudden oak death is caused by a soil-borne fungal disease called Phytophthora ramorum. It can infect over 100 species of plants but is especially deadly in oak trees. Infected oaks can succumb to sudden oak death very quickly. The disease causes bleeding cankers of sap that can attract pests.
Although sudden oak death hasn't been found in Michigan yet, it can be transported in infected soil and plant materials. Stiff regulations on the transportation of infected wood have prevented the rapid spread of the disease, but if we look at other tree pests and diseases, we will learn that it is not a matter of "if" it comes here, it's a matter of "when".
Your Trusted Tree Service
When trees die, they can pose serious risks to people and property. Cutting down a tree can also be extremely dangerous with mature trees. That's why you should always hire the professionals at PPM Tree Service & Arbor Care. We have years of experience pruning, cabling, and removing dangerous trees.
Give us a call at (877) 454-8733 or request a quote here. Hear about the latest news and offers from PPM by following us on Twitter and Facebook. Don't forget to check out the monthly PPM Tree blog for all your tree care tips and tricks.
---
---