Create Your Own Privacy Wall With 1 of These 4 Popular Evergreens
Have you been thinking about adding a privacy fence onto your landscape? Perhaps you have an above-ground pool or want to block out noise from the neighborhood. Save money and go the environmental route by investing in a living privacy fence. Planting a row of thick, green foliage will ensure any peering eyes next door is kept in the dark. It will also help block out unnatural sounds such as lawn equipment and traffic, creating a staycation in your backyard. PPM Tree Service is here to help. We've compiled a list of the best evergreen trees available here in Michigan, ready for you to design your very own living privacy fence.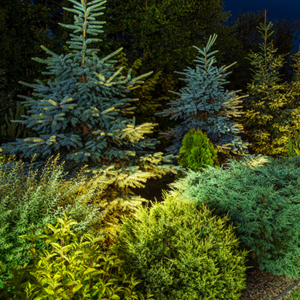 Michigan's State Tree- The White Pine
Why not start with our very own state tree, the White Pine! Also called the northern pine, this tree is the tallest conifer in the Northeast section of the United States. It can grow up to 100 feet and live up to 200-400 years. This tree is also a fast grower, so this pine is for you if you are looking for something quick. It grows best in partial shade to full sun with well-drained soil. It is the perfect choice for our warm, humid summers and cooler winters. White pines typically expand up to 14 feet wide, making them an ideal width for privacy. They maintain a round pyramid-like shape and can be trimmed into hedges.
The needles on this tree are soft, fine, and flexible. Cones begin to develop around five to ten years of age and are four to eight inches in length. They are not drought-resistant and can be ruined by certain pests, including the white pine weevil and the white pine blister rust, which can cause a lot of damage. You can help protect your white pines through an adequate fertilization and insect control maintenance program.
Norway Spruce
Another fast-growing evergreen is the Norway spruce. The fastest-growing of the spruce family, it is a popular choice for living privacy fences and windbreakers. With branches that arch up in a swooping manner, this tree can grow up to 100 feet tall. It has a pyramid shape at the top and features dark green needles roughly 1/2 to one inch in length. It prefers full sun and well-drained soil. It is one of the easiest trees to take care of, is easy to transplant when needed, is pest resistant, and rarely falls victim to insects or disease. It is also relatively resistant to deer. What's not to love about this graceful beauty?
Douglas Fir
Mostly known for being farmed for Christmas trees, the Douglas fir also makes a great privacy fence. Its spire like shape and variable color make it highly attractive for larger landscapes. It expands to a height of between 40 and 70 feet with a spread of ten to 12 feet at maturity. It grows at a medium rate and prefers full sun and acidic soil that is well-drained. It is one of the country's top sources of lumber today. Its strong wood is used in boats, aircraft, and construction.
Unfortunately, the Douglas fir, like many trees, fall victim to several diseases, including swiss needle cast, white pine blister rust, dwarf mistletoe, and sudden oak death. You can help protect your Douglas fir through a proper maintenance program that includes fertilization and dormant oil.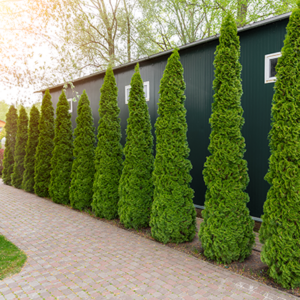 American Arbivortea
If you are looking for an evergreen that takes up less space, try the American arborvitae. Its narrow, pyramidal shape and fast-growing pace make it the natural choice for a living privacy fence. These soft bushes with glossy, green needles can be planted in a row to create a wall between one landscape to the next. Most varieties of arborvitae trees mature between ten and 15 feet. They need full to partial sun and prefer moist soil. Its tiny, scale-like leaves are packed closely together in overlapping rows, and its trunk is sometimes forked near the ground into several main stems covered with reddish-brown bark. It provides a home for many birds, including grackles, robins, and house finches. One downfall to this delightful evergreen is its popular appeal with the deer population. However, if this becomes a problem, a simple deer repellent can help.
For All Your Tree Planting, Trimming, Pruning and Shaping Needs, Contact PPM Tree Service & Arbor Care
If you are unsure of which evergreen trees to utilize for your living privacy fence, contact the professionals who know trees best, PPM Tree Service & Arbor Care. We invest time in helping our customers and offer only the best care for your current or future trees and shrubs. PPM handles the installation and planting of a wide variety of tree species. As with all our services, we will provide expert advice on which trees will do the best based on your property's soil type, amount of sunlight, and moisture. Our trees even come with a one-year warranty. Start living in paradise now with your own living privacy fence.
Contact the experts at PPM Tree Service & Arbor Care. You can reach us by phone at 1-877-454-8733 or contact us here on our website.
For more articles containing information on your beloved Michigan trees, follow our blog. Then check us out on social media. Like us on Facebook, follow us on Twitter, and check for ideas on our Pinterest.
---
---