Best Shade Trees in Michigan: A Spring Tree Planting Guide
With spring fast approaching, we're coming up on the best time of the year to plant trees in Michigan. Now is an excellent time to start planning which trees will best suit your lawn. One of the best types of trees to add to your Michigan property are shade trees. A shade tree is a quick-growing tree with a large canopy, offering excellent shade throughout the year. Here are a few of the best shade trees in Michigan.
Maple Trees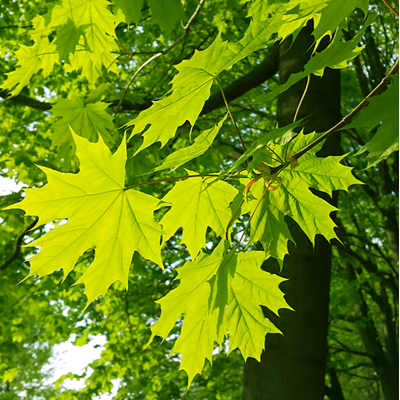 Some of the most popular trees in Michigan are maple trees and they're popular for good reason. These beautiful trees are quick-growing and have a beautiful shape to them. Their famous leaves offer wonderful shade throughout the summer, offering a place to beat the heat. A strategically planted maple tree provides enough shade to lower the cooling cost of your home during the summer. In the fall, maple trees offer the best light show. The vast number of different types of maple trees means there's a perfect one for everyone.
Best Maple Trees in Michigan:
Sugar Maple
Red Maple
Silver Maple
Black Maple
Norway Maple
Oak Trees
Few trees are more impressive than the mighty oak tree. These magnificent trees are known for their hardiness, strength, and size. Though they typically aren't quick-growing trees, nothing is more impressive than a mature oak tree. The large, lobed leaves provide large swathes of shade across your lawn. Plant one of these wonderful shade trees front and center to give your lawn a marvelous feature for generations to come.
Best Oak Trees in Michigan
White Oak
Bur Oak
Black Oak
Pin Oak
Red Oak
Scarlet Oak
Evergreen Trees
Some of the best shade trees in Michigan are evergreens. Pine, spruce, fir, and cedar trees grow tall and retain their needles all year long. The dense foliage creates a cool, shady environment wherever evergreen trees are found and even offer protection from the strong winter winds. Evergreens are often planted around the border of a lawn, providing privacy, protection, and shade. They're also wonderful features to admire during the winter.
Best Evergreen Trees in Michigan
Eastern White Pine
Eastern Red Cedar
Dawn Redwood
Red Pine
Balsam Fir
Eastern Hemlock
Willow Trees
When it comes to shade trees, willows are among the best. These trees are extremely quick-growing, sometimes growing two feet or more per growing season. The drooping canopy provides perfect shade during the hottest days of summer. Because of their drooping leaves and expansive canopy, willow trees are some of the best shade trees in Michigan.
Best Willow Trees in Michigan
Weeping Willow
White Willow
Northern Catalpa Trees
>
One of the most underappreciated trees in Michigan is the northern catalpa tree. These gorgeous trees have huge, heart-shaped leaves with beautiful emerald color. In the spring and summer, catalpa trees grow some of the best-smelling flowers that you'll ever find. While they don't really change colors in the fall, they more than makeup for it with the lush, shade-providing canopy throughout the year.
Plant the Best Shade Trees in Michigan with the Help of PPM Tree Service & Arbor Care
When it comes to planting trees, nobody does it better than PPM Tree Service & Arbor Care. Our experts have a vast knowledge of trees in Michigan, helping you find the perfect tree and the perfect place to plant it. Boost the curb appeal of your home and get the most out of your lawn in the summer by planting one of the best shade trees in your lawn this spring.
To get started, give us a call at (877) 454-8733 or request a quote here. Be the first to hear about exclusive PPM offers by following us on Twitter and Facebook. Check out our expert tree care blog for the best tips on trees.
---
---